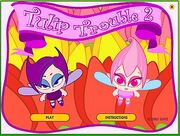 Tulip Trouble 2 is an Arcade game that didn't retire. This game features Nafaria.
The object of the game is to click on the good fairies so they can bring back life to the forest. Just make sure you don't click on the bad fairies because they take away points you earn. In each level, you must release a certain amount of good fairies before time runs out.
Ad blocker interference detected!
Wikia is a free-to-use site that makes money from advertising. We have a modified experience for viewers using ad blockers

Wikia is not accessible if you've made further modifications. Remove the custom ad blocker rule(s) and the page will load as expected.