A Quick Draw is a Today's Activities game. You scratch a number on the ticket and if you get the number right, you get the prize you were quick-drawing for.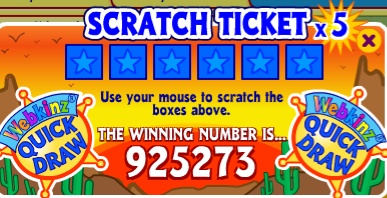 Pet of the Month owners get bonus quick draws for Pet of the Month Items throughout the month. As of 2009, Ganz eStore items can be in Quick Draws. Deluxe Members only used to have them, but Ganz gave access to all accounts.
Ad blocker interference detected!
Wikia is a free-to-use site that makes money from advertising. We have a modified experience for viewers using ad blockers

Wikia is not accessible if you've made further modifications. Remove the custom ad blocker rule(s) and the page will load as expected.