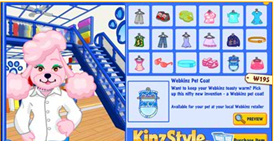 You can buy KinzStyle Clothes if you have a gift box to go to the KinzStyle Shop when you get Clothing for your plush pet. It was found in October 2007, and is hosted by Persephone. You can pick clothing for your Lil'Kinz or Webkinz pet online for some KinzCash either regular or 10% off. Kinzstyle shop clothing is exclusive and can ONLY be purchased by buying REAL webkinz clothing ranged from 6.00-7.59
Ad blocker interference detected!
Wikia is a free-to-use site that makes money from advertising. We have a modified experience for viewers using ad blockers

Wikia is not accessible if you've made further modifications. Remove the custom ad blocker rule(s) and the page will load as expected.