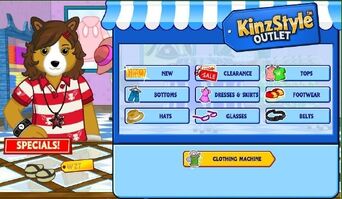 The
Kinzstyle Outlet
is a place in
Webkinz World
that is run by
Pollie-Jean Collie
as a place where
Webkinz
can go and buy clothes that are cheaper than at the
W-Shop
. It also houses the famous
Webkinz Clothing Machine
which allows pets to combine clothes for much more extravagant
Clothing
pieces.
The Kinzstyle Outlet is not to be confused with the KinzStyle Shop which is run by Persephone the poodle.
Teeshirt Design
The T-Shirt Design part of the KinzStyle Outlet allows you to make a customized T-Shirt, that you can later buy from the E-Store.
Clothing Machine
The Clothing Machine is another part of the KinzStyle Outlet, where you can combine 3 different items to make a whole new different item. Some combinations are listed below:
Strawberry hat
Green Layered Tee + Red European Flare Shades + Red Bow
Highland Kilt
Funky Plaid Hat + Kilt Skirt + Purple Kilt
Alphine Hat
Unknown.
Bright Spies Trench Coat
cowboy hat + wing tip shoes + dark shades
Cowgirl Dress
Cowboy Hat + Cow Poke Top + Smocked Sundress
Detective Cap
Blue Ball Cap + Red Ball Cap + Tan Suit Jacket
Glass Slippers
Funky Girl Glasses + Ruby Slippers + Princess Hat
Patched Denim Jacket
Green Layered Tee + Purple Layered Tee + Jeans
Patchwork Hat/Pants/Shirt
Any clothing.
Seaside Sarong
summer fun swimsuit top-bright green swim trunks- wide tan pants
Sparkly Silver Suit Jacket
Unknown.
Sparkly Silver Suit Pants
Tan Suit Pants + Sparkly Pink Bow + Tuxedo Shoes
Sweet Dreams Bath Robe
Fuzzy Slippers + Thick-Knit Sweater + Yoga Pants
Tabby Glasses
Lovely Leopard Cat Cap + Penny Loafers, and White Hollywood Sunglasses
Tie Dye Top
Purple Pajama Top + Blue And Yellow Fleece + Flower Power Swimsuit Top
Toga
White Jeans + Kinzville Academy Skirt + Flip Flops
Toy Solider Coat
Captain Dogbeard's Coat + Mod Jacket + Red Sneakers
Toy Solider Hat
Party Hat + Funky Plaid Hat + Dude Hat
Wild Watermelon Shirt
Ballerina Leotard Top- Summer Fun Swimsuit Top- Emerald Polka Dot Rain Boots
Wizards Apprentice Robe