Here is the Hungry Hog 2 Ad: It is a picture of Pinky the Pig eating a whole pile of vegetables with her red-striped helmet on her head. It says: Got Veggie? Hungry Hog 2:PINKY'S BIG ADVENTURETM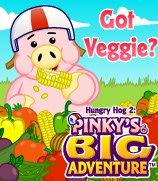 This add features Pinky eating a pile of vegetables and the main quote is Got Veggie?, this is odd because the point of the game is to avoid vegetables, they make you lose. Junk food goes back on the screen after you eat one, so it takes more time and the bees will sting you more easily.
Ad blocker interference detected!
Wikia is a free-to-use site that makes money from advertising. We have a modified experience for viewers using ad blockers

Wikia is not accessible if you've made further modifications. Remove the custom ad blocker rule(s) and the page will load as expected.