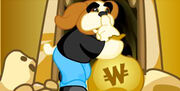 Fluffington St. Bernard is the richest Webkinz in Webkinz World which started the KinzCash Hunt in 2007. There has been many stories about hm and one story was that he wasn't going to spend any KinzCash for anybody in Webkinz World for Christmas! He's a dog that likes scavenger hunts and is a bit selfish about his KinzCash. He is a St. Bernard
Ad blocker interference detected!
Wikia is a free-to-use site that makes money from advertising. We have a modified experience for viewers using ad blockers

Wikia is not accessible if you've made further modifications. Remove the custom ad blocker rule(s) and the page will load as expected.