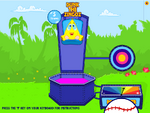 Dunk the Zingoz is a Daily Activity that you can sometimes play. You need to knock down Wacky Zingoz in a number of tries. There is a chance that you can get a trophy when you knock him down into the water. If you do that, you will get thirty KinzCash. Formerly, if you knocked him into the water, you would have gotten ten KinzCash.
Ad blocker interference detected!
Wikia is a free-to-use site that makes money from advertising. We have a modified experience for viewers using ad blockers

Wikia is not accessible if you've made further modifications. Remove the custom ad blocker rule(s) and the page will load as expected.