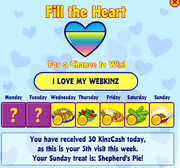 Daily KinzCare is an everyday activity you can do in Webkinz World. You have to go to My Pets, and then press Daily KinzCare. You can get KinzCash, and food after you press I LOVE MY WEBKINZ. If you do this everyday for a week, you have a chance to get an Exclusive Item.
(from Newspaper)
To find it, visit the "My Pets" section of the Things to Do menu in Webkinz World. Just click the "Daily KinzCare" tab and you'll see a button that says "I love my Webkinz." Click the button, and you'll get some KinzCash (ten the first day, and five more each for each day you visit in a week). You'll also get some a free food! Click the "I love my Webkinz" button everyday for a week to fill up the heart and to get a chance to win a draw for an exclusive item!
Ad blocker interference detected!
Wikia is a free-to-use site that makes money from advertising. We have a modified experience for viewers using ad blockers

Wikia is not accessible if you've made further modifications. Remove the custom ad blocker rule(s) and the page will load as expected.