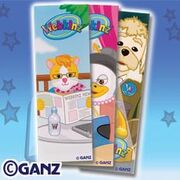 The perfect thing to mark your place in your very favorite book – Webkinz Bookmarks! From a picture of Plumpy penning her very next novel, to a snapshot of Wacky Zingoz and his old pal Zangoz, these bookmarks capture some truly memorable moments in Webkinz World. When you unlock the Feature Code that comes with a bookmark, you will get to choose a fantastic book for your Webkinz. Cookbooks, W-Tales – they're all there and you can pick your favorite!
Ad blocker interference detected!
Wikia is a free-to-use site that makes money from advertising. We have a modified experience for viewers using ad blockers

Wikia is not accessible if you've made further modifications. Remove the custom ad blocker rule(s) and the page will load as expected.